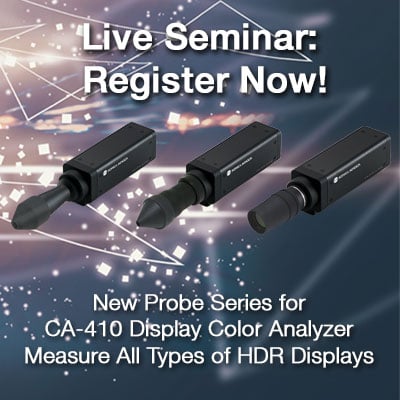 New Probe Series for the CA-410

Sorry you missed us but you can still register below...

To meet your display measurement needs, Konica Minolta Sensing Americas offers a diversified collection of measurement probes for its popular Display Color Analyzer CA-410.
Our Display Color Analyzer, CA-410 series with 27mm probe is ideal for any high-dynamic range (HDR) display applications. It provides faster measurement capability with better accuracy and repeatability.
We offer our CA-VP402 High Sensitivity Probe that is capable of ø2.1 mm small spot sized measurements on such displays as micro-OLEDs. CA-VP404 High Sensitivity Probe for ø4mm spot measurements is also available for wider luminance measurement range.
Additionally, we offer the CA-VP410T Long Working Distance Probe. This probe allows multi-angle measurements and still provides full advantages of using the CA-410 series.
Sorry you missed us...
If you are interested in learning more about upcoming seminars in your area virtual and/or in-house Please register here.